The digitalisation of the Schuldschein marketing process was only the first step in digitalizing the complete Schuldschein process. With the focus on process efficiency, the second step is now to digitalize the currently paper-based documentation processes in the settlement. How this works and what benefits the digital settlement process offers is explained in the following.
PROCESS
DIGITAL MARKETING OF SCHULDSCHEIN
The DEBTVISION platform efficiently brings together borrowers, arrangers and investors. During the marketing phase digital data rooms and integrated communication functions make the platform a Single-Point-Of-Information. Investors can digitally place soft and firm orders and the paper-based underwriting form is no longer required.
DIGITAL PRODUCTION AND DISTRIBUTION OF DOCUMENTATION
After marketing the transaction, the final parameters are automatically transmitted from the DEBTVISION platform to the linked DLT settlement platform. The transaction confirmations as well as the transfer certificates are then automatically generated and made available to all relevant investors in real time.
E-SIGNATURE
The electronic signature of the contracts ensures an efficient process without media interruption for all participants. The integration of DocuSign, a provider of e-signature solutions, and Bundesdruckerei guarantees the highest security standards and legally binding digital signatures, depending on whether simple or qualified signatures are required.
ADVANTAGES
DIGITAL MARKETING OF SCHULDSCHEIN
Exclusive marketing
Greater transparency through Single-Point-Of-Information
More efficiency and better networking
Direct communication with arrangers and borrowers
Elimination of paper-based underwriting forms
DIGITAL PRODUCTION AND DISTRIBUTION OF DOCUMENTATION
Documents no longer need to be printed and sent by post
Fast and secure transfer of transaction parameters in documents through technical transfer
Immediate access to all relevant documents
Access to final transaction data without time delay
Postal delivery times are completely eliminated
E-SIGNATURE
Signature process without media interruption
Secure process and legally binding business conclusion
Transport and delivery times are eliminated
Electronic signature solution is product-independent
PILOT TRANSACTION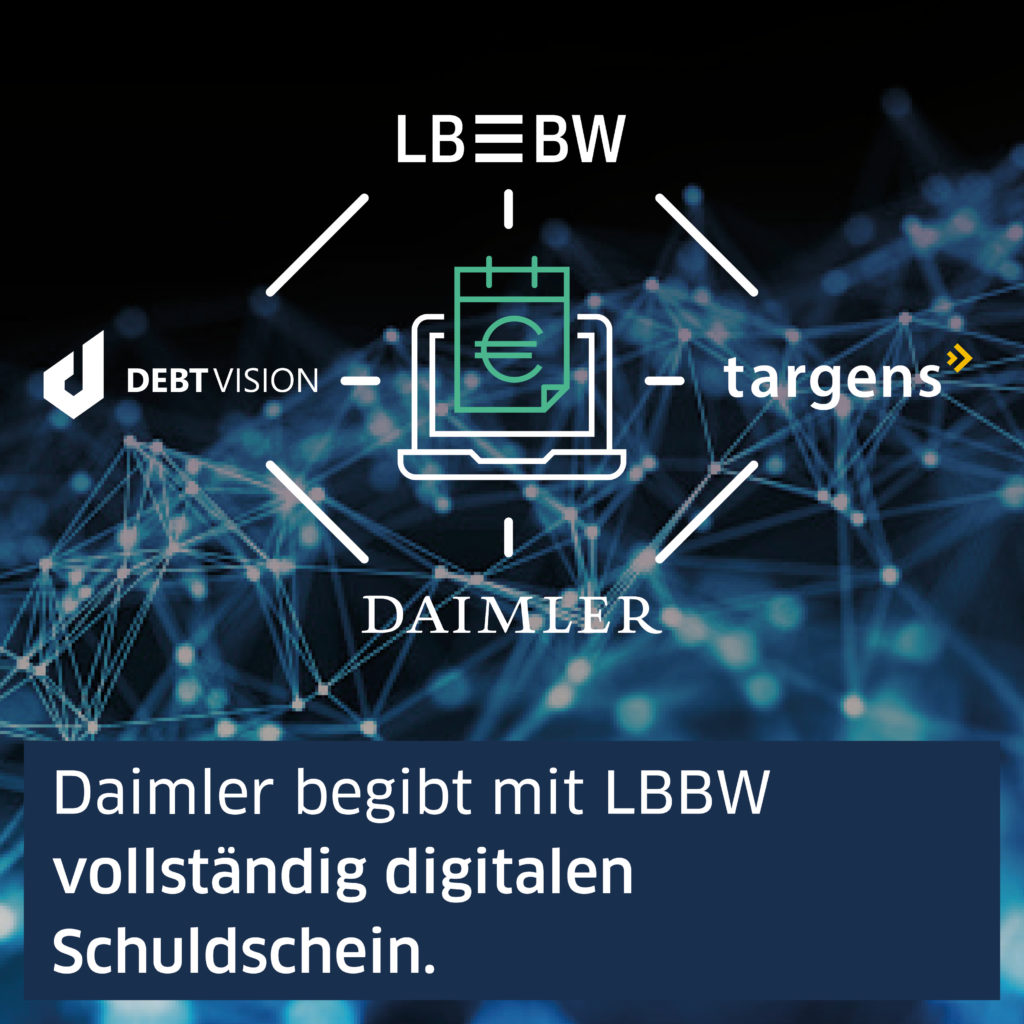 In a pilot transaction, Daimler AG together with the LBBW issued a fully digital Schuldschein via DEBTVISION. It was the first widely marketed, legally effective fully digital Schuldschein transaction in Germany based on DLT.

PRESS RELEASE
PRESSEMITTEILUNG DAIMLER/LBBW